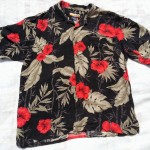 One of the problems with buying Hawaiian shirts in department stores, is that the brand and style might not be there after a season. Such is the case with the first shirt I'd like to review.
Havana Jack's Cafe – Silk Hawaiian Shirt – Sold by Kohls – $50 – No longer available
This was one of my favorite shirts, while it lasted. I loved the colors. The red contrasted with the black background, yet had the brown leaves so that it wasn't too overbearing. The feel of the silk was very nice. The fabric was textured, so that it wasn't the super slick silk feeling.
But that textured silk fabric was it's undoing. The fabric wasn't very strong. Although it said machine washable, it couldn't hold up to more than a few washing's, even on delicate. I liked it so much I'd wear black t-shirts underneath so you couldn't tell too much that it was ripped. Eventually I had to retire it before it became a pile of silk thread.
Scores:
Authentic: 2 Flowers – Although it has a hawaiian floral print, and the buttons look authentic, the pocket does not match, and the buttons are just plastic with a pattern.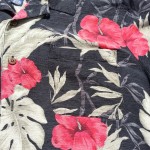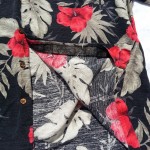 Fabric: 2 Flowers – The fabric feels great. But it shreds easily.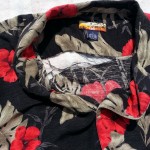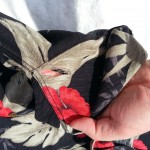 Style: 4 Flowers – I love the whole style.  Not my very favorite style, but close.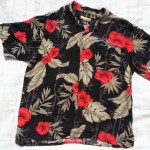 Final Score: 8 Flowers – A very nice looking shirt.  Not really authentic, and the fabric makes this something you wear to just one nice event.  Not something for everyday wear.