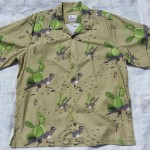 This review is one of my all time favorite Hawaiian Shirt.  OK, so in reality it is an Arizona Shirt.  But saying it's an Arizona Shirt hasn't quite caught on yet.  But I'm sure it will soon.
Kokopelli Shirts – Cotton RoadRunner Shirt – Sold by Kokopelli Shirts – $99 (bought on sale for $69)
Most people who know my taste would be surprised that I love a shirt with no flowers on it.  The combination of the road runner, cactus, along with the dancing kokopelli figure leads to a very subtle, but unique shirt.  I also love the feel of the fabric and the rounded wooden/coconut buttons.
Scores:
Authentic: 4 Flowers – Great Buttons. Pocket Matches. But I can't give it 5 flowers, because it's an Arizona Shirt, not a Hawaiin shirt.
Fabric: 5 Flowers – 100% cotton fabric. This fabric was designed to be worn in Arizona, so it breathes very well. It manages to keep you cool, despite it being a very solid fabric. It has a very high quality feel that was made to last you for years.
Style: 4 Flowers – Not a flowery shirt, and yet very appealing. Kokopelli shirts has managed to pull together the elements of the desert into a very good looking shirt.
Final Score: 13 Flowers – A great looking shirt, great fabric, and very nice style. One of my "I love to wear this shirt" shirts. The only reason I'm giving it 13 instead of 15 flowers is because I'm doing Hawaiian shirt reviews. If this was about Arizona shirts, I've give it a solid 15 cactus's.